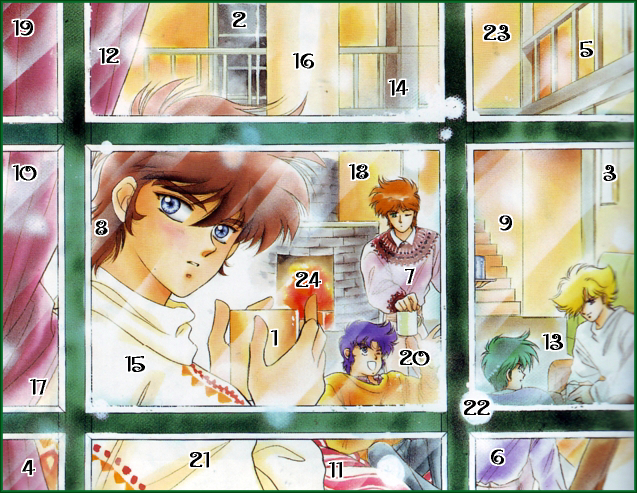 Advent Day One
Papercraft Ornament
December 1, 2013
Yoroiden Samurai Troopers
Advent Day Two
Sleight of Hand
by Tenshi
December 2, 2013
Cid, Vincent, & ShinRa's mistakes
Final Fantasy VII
Advent Day Three
Benedick Paper Doll
by Tenshi
December 3, 2013
Meet our first mascot!
Advent Day Four
Thaw
by Tenshi
December 4, 2013
There's something under the mountains in Trabia.
Final Fantasy VIII
Advent Day Five
Better Late
by llamajoy
December 5, 2013
...than never.
Avengers
Advent Day Six
This Year's For Me and You
by Tenshi
December 6, 2013
New York still has a few Happy Endings.
Ace Attorney
Advent Day Seven
Ian Paper Doll
by Tenshi
December 7, 2013
...And our second mascot!
Advent Day Eight
Vintage Cookie Recipe #1
December 8, 2013
A favorite of demon butlers and jolly old elfs alike!
Advent Day Nine
Retro Christmas Special
December 9, 2013
Careful of the icy patch.
Advent Day Ten
Ancient Yuletide Carols
by Tenshi
December 10, 2013
Heard this same song twenty times, and it's only Halloween.
Vagrant Story (Modern Future)
Advent Day Eleven
Magic in Ruin
by llamajoy
December 11, 2013
Every little bit helps.
Final Fantasy VI
Advent Day Twelve
Infamous Love Song
by Tenshi
December 12, 2013
Rude's past and his present.
Final Fantasy VII
Advent Day Thirteen
Remnants, Chapters 5-8
by Tenshi
December 13, 2013
First started in 2007, this epic has its ending at last.
Yoroiden Samurai Troopers
Advent Day Fourteen
Vintage Cocktails
December 14, 2013
How to make a Sidecar, Tom & Jerry, Claret Cup, and one hell of a Wassail.
Advent Day Fifteen
Winter Garden
by Tenshi
December 15, 2013
The Commander and his command.
Final Fantasy VIII
Advent Day Sixteen
No Muss, No Fuss
by Tenshi
December 16, 2013
...a different Commander and his command, and way more NSFW.
Attack on Titan
Advent Day Seventeen
At the Sign of the White Deer
by Tenshi
December 17, 2013
There's not much worse than being sick away from home.
Suikoden
Advent Day Eighteen
For Services Rendered
by Tenshi
December 18, 2013
Agent Coulson's ride is here.
Avengers
Advent Day Ninteen
Christmas Candy Recipes
December 19, 2013
Newspaper-clipping candy from Christmas Past
Vintage Baltimore Sun
Advent Day Twenty
O Come Thou Key of David
by Tenshi
December 20, 2013
Christmas isn't much fun for Realists.
Makai Ouji
Advent Day Twenty-one
In a Circle of Friends
by Tenshi
December 21, 2013
Just go through hell and regroup again.
Xenogears
Advent Day Twenty-two
You Can Plan on Me
by Tenshi
December 22, 2013
To be honest, the HeroTV Christmas Special is pretty awful.
Tiger & Bunny
Advent Day Twenty-three
Christmas Paper Doll Outfits
by Tenshi
December 23, 2013
Benedick and Ian are ready for Christmas!
Advent Day Twenty-four
A Host of Seraphim
by Tenshi
December 24, 2013
Sometimes the Past comes looking for you.
Final Fantasy VII

---
b i s h o n e n i n k